At first look you might really think it's a tablet - it's slate in form, has a full touch screen, thin and portable - but it's features and capabilities will make you think again. Yes, it's not your average iPad killer. Samsung has displayed yet another gadget that is promising to users. And did I mention its powered by Windows? The information below gives a comprehensive view on this gadget. Here's a video of the Samsung Slate PC covering its exciting features
Display and Dimensions
The screen size is set at 11.6 inch.  It offers resolution of 1366x768 in 16M colors with LED backlit display which makes it visible outdoors.  This tablet is slick, slim and light compared to its windows tablet rivals although it is much heavier than the Samsung Galaxy Tab.  It has a weight of 890g or 2.03 lbs. and is thin, only measuring less than half inch (12.9mm).
Processor
This windows powered phone is supported by Intel's powerful 1.6GHz Core i5-2467M quad-core CPU – far behind other windows tablet Intel Atom processor.  It has 4GB RAM and can be purchased with 64GB or 128GB drive capacities.
Access and Connectivity
Access on the Samsung Series 7 Slate can be through a USB v2.0 port, a micro-HDMI port (for videos on HDTV) and a microSD slot.  Users can connect through wireless network through Bluetooth v2.1 and Wi-Fi.  For 3G connection, a SIM card slot is available.
Camera and Battery life
The tablet PC has a 3 megapixel camera in the rear and a 2 megapixel camera in front.  A light sensor is also attached.  Battery life is expected to last for 7 hours.  The Series 7 Slate is installed with a lithium-polymer battery
Others stuff
Most windows enabled tablets problem is its lack of keyboard (actual keyboard) and mouse.  That is why when purchasing the Samsung Series 7 Slate, you may choose to bundle it with a wireless keyboard, a dock and a digital stylus.  The dock provides a stable base for the tablet.  It also has ports for HDMI, USB 2.0 and Ethernet aside from those found on the tablet. Aside from the hardware, the slate is equipped with Samsung's FastStart Technology which enables the computer to wake up in 2 seconds and startup in 15 seconds.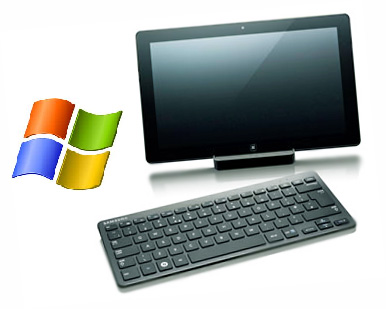 Price
The Samsung Series 7 Slate PC can be purchased at around US$1,100 for Home Premium Edition and around US$1,200 for the Pro Edition which has 64GB drive.  If purchasing with bundled keyboard, dock and stylus, it is priced at US$1,349(Home Premium) with 128GB.
Screen resiliency
Using the screen remains a challenge.  Because of small windows button, there are times of poor response in screen pressing.  We expect that this problem will improve when the Windows 8 is revealed and made public next year.  A digital stylus may be used in for better handwriting recognition and precise selection.  The screen can also register 10 fingers at a time.
Release date
Shipdate is expected on November 1
st
.  Gadget fanatics can now pre-order on Microsoft Store for the new Samsing Series 7 Slate.  Samsung expects that purchases for this device would be mainly coursed online.