When it comes to the battle of Tablet PCs, iPad clearly is one of the top competitors. Ipad's popularity has been challenged by many alternatives in the market, yet this device from Apple poses no decline in popularity -- although some have
complains
. Apple lovers enjoy many of the goodies from apple straight to their ipad -like the iTunes App Store. Recently, Samsung introduced its Tablet PC that is deemed by many to be the best ipad alternative. Here are the highlights of their comparisons.
Form Factor and Size
With a dimension of (190.09) x (120.45) x (11.98) mm, this ipad alternative presents an advantage when it comes to portability as compared to the (242.8) x (189.7) x (13.4) mm of the ipad. The Galaxy Tab's screen provides more personal viewing experience  with its 7-inch screen. The 9-inch screen of the ipad on the other hand, can accommodate more than one viewer. The tablet PC from Samsung weighs 380 grams – pretty lighter than the 730 grams of the ipad.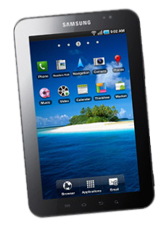 OS and Processor
The Samsung Galaxy Tab runs on Android 2.2 Froyo Operating System – perfect for Android fans. On the other hand, the ipad runs on iOS 4 that is particularly made for this device. Both these 2 tablet PCs are equipped with 1.0 Ghz processor though.
Battery Life
The iPad outlasts the Galaxy Tab when it comes to the battery life. You'll have enough of the 10hr battery life (active mode) of the ipad as compared to the 7hr from Samsung Galaxy Tab.
Samsung Galaxy Tab's Edge
One of the Galaxy Tab's features that makes it a good choice over the ipad are its the built-in cameras. The Galaxy Tab comes with rear and front cameras. Use the rear camera for more high-resolution still images and video capturing. The front camera on the other hand, is perfect for video conferencing. The ipad's lack of cameras disappoints many users. This ipad alternative also works as a mobile phone. It comes with a SIM card slot for its 3G connection as well as SMS and voice call capabilities. The ipad, despite having a SIM card slot, but only for the purpose of 3G its connection – no support for SMS and voice calls though.