During the IFA consumer electronics show in Berlin last year, Samsung yet again charmed the tech world with its new device that falls between the class of smartphone and tablet. The 5.3-inch Samsung Galaxy Note is oversized for a typical smartphone but quite small for a conventional tablet – so confusing that making its own category can only mark its distinction. The subsequent installment of the original Galaxy Note, which was announced and released in January this year, is the Galaxy Note 1717 (also known as the Galaxy Note 4G for AT&T).
The upcoming new version is entirely different from its predecessors as it is a full tablet this time. It was announced last February and is expected to be available on the same quarter of 2012. This new installment, the Samsung Galaxy Note 10.1, is an Android 4.0 Ice Cream Sandwich tablet and is expected to be one of the tough competitors for the latest iPad, the "New iPad".
At first glance, you might think the Galaxy Note 10.1 is rather an installment of the Galaxy tab 10.1 that comes with S-Pen stylus. They have same slim and sleek body, have almost identical dimensions and have same size of screen (and resolution at 800 x 1280 pixels).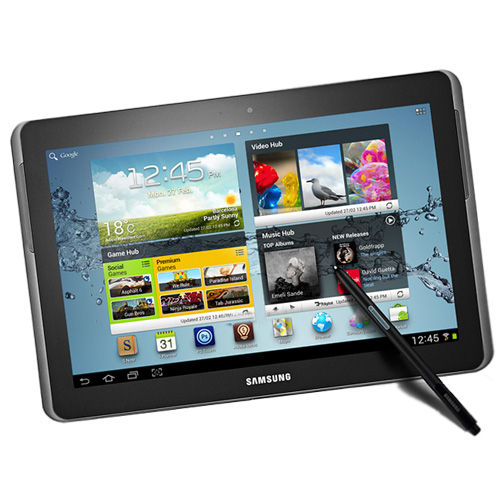 Inside the thin frame of the Galaxy Note 10.1 is a 1.4GHz dual-core processor. It comes with 1GB of RAM and storage options of 16GB, 32GB or 64GB further expandable through microSD (up to 32GB). For the size and weight, it has (256.7) x (175.3) x (8.9) mm and weighs 583 grams. Two cameras are present: 3.15-Megapixel primary and 2.0-Megapixel secondary.
Data connectivity features for this Galaxy Note are WiFi b/g/n, Bluetooth 3.0 and USB 2.0. It makes it a bit inferior to its older sibling due to its lack of 4G LTE support. A new version with 4G might be introduced in the future, however.