Last year, here at Techietonic we compiled a list of 4G smartphones available on shelves of Verizon and did a succinct comparison of their highlights – the Motorola Droid Bionic is the clear winner on that duel. This year we are doing it again! Although some of the available 4G for Verizon this early of 2012 were products of 2011, we are expecting more entries will be added in this year's long list.
From just a handful available last year, the list grows into a crowd of smartphones from different names this 2012. Our starter list is comprised of 11 phones already. Popularity maybe due to 4G LTE bandwagon – it is the new norm on mobile network connectivity – or because the company branded their 4G LTE network as the "fastest and most reliable" in the region of America.
This years returnees include the Motorola Droid Bionic, LG Revolution, HTC Thunderbolt and Samsung Droid Charge. Notable in the list is the addition of Pantech's entry – a good budget solution due to its low retail and contract price.
Here is the list compiled based on manufacturer and compared based on their specs highlights and prices.
Samsung 4G LTE Phones for Verizon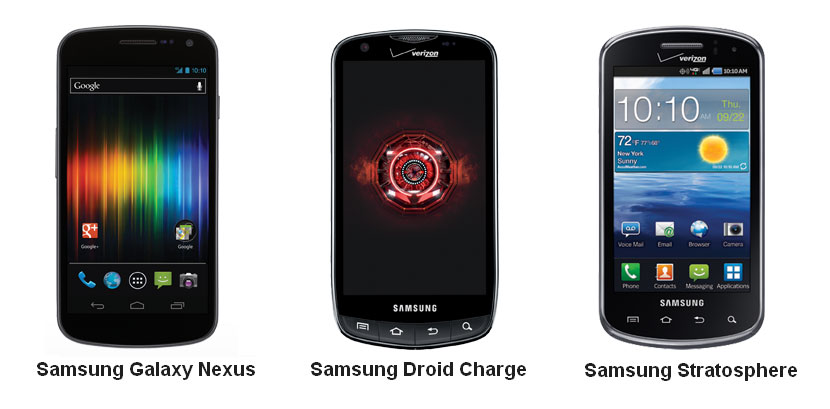 Prices
OS
CPU
Display
Others
Samsung Galaxy Nexus
$649.99 (retail)
$299.99(2-year contract)
Android 4.0 (Ice Cream Sandwich
1.2GHz Dual-core Cortex-A9
4.65 inches
5.0MP Camera1.3MP secondary Camera (front facing)
Samsung Droid Charge
$499.99(retail)$199.99(2-year contract)
Android 2.2 (Froyo)
1GHz Cortex-A8
4.3 inches
8.0MP Camera1.3MP secondary Camera (front facing)
Samsung Stratosphere
$409.99(retail)$149.99 (2-year contract)
Android 2.3 (Gingerbread)
1GHz
4.0 inches
5.0MP Camera1.3MP secondary Camera
Motorola 4G LTE for Verizon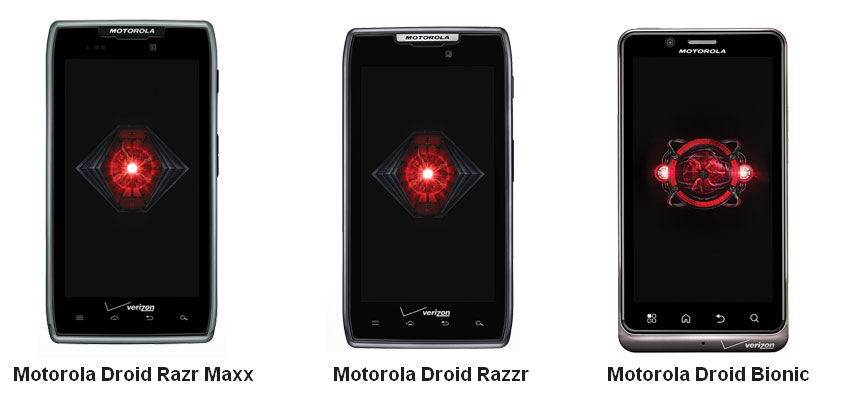 Prices
OS
CPU
Display
Others
Motorola Droid Razr Maxx
$649.99 (retail)
$299.99(2-year contract)
Android 2.3 (Gingerbread)
Upgradable to v.4.0 (Ice Cream Sandwich)
1.2GHz Dual-core Cortex-A9
4.3 inches
8.0MP Camera1.3MP secondary Camera
Motorola Droid Razr
$599.99(retail)$199.99(2-year contract)
Android 2.3 (Gingerbread)
1.2GHz Dual-core Cortex-A9
4.3 inches
8.0MP Camera2.0MP secondary Camera (front facing)
Motorola Droid Bionic
$589.99(retail)$199.99 (2-year contract)
Android 2.3 (Gingerbread)
1.0GHz Dual-core Cortex-A9
4.3 inches
8.0MP CameraVGA secondary Camera (front facing)
LG 4G LTE Phones for Verizon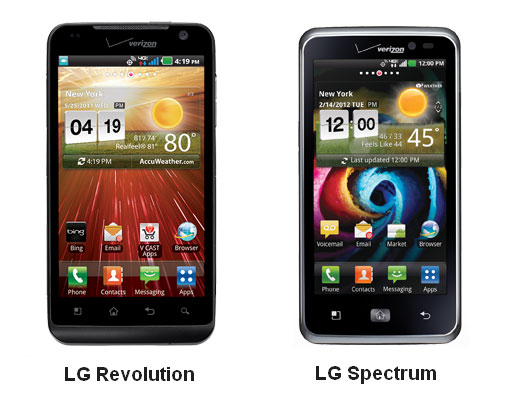 Prices
OS
CPU
Display
Others
LG Revolution
$559.99 (retail)
$149.99(2-year contract)
Android 2.2 (Froyo)
1.0 GHz Scorpion
4.3 inches
5.0MP Camera1.3MP secondary Camera (front facing)
LG Spectrum
$589.99(retail)$199.99(2-year contract)
Android 2.3 (Gingerbread)
1.5GHz Dual-core Scorpion
4.5 inches
8.0MP Camera1.3MP secondary Camera (front facing)
HTC 4G LTE Phones for Verizon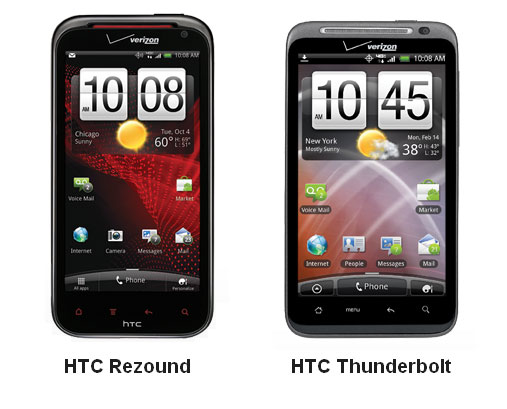 Prices
OS
CPU
Display
Others
HTC Rezound
$649.99 (retail)
$199.99(2-year contract)
Android 2.3 (Gingerbread)
1.5GHz Dual-core Scorpion
4.3 inches
8.0MP Camera2.0MP secondary Camera (front facing)
HTC Thunderbolt
$569.99(retail)$149.99(2-year contract)
Android 2.2 (Froyo)
1.0GHz Scorpion
4.3 inches
8.0MP Camera1.3MP secondary Camera (front facing)
Pantech 4G LTE Phones for Verizon
Prices
OS
CPU
Display
Others
Pantech Breakout
$359.99 (retail)
$99.99(2-year contract)
Android 2.3 (Gingerbread)
1.0GHz
4.0 inches
5.0MP CameraVGA secondary Camera (front facing)