Hailed as the "Future of the Notebook", the Apple Corporation intensifies the MacBook commerce by complementing the MacBook Pro with what is popularly known as the "MacBook Air". Breeze of functions soaring on the wings of notebook, MacBook Air proliferates its fame as it encompasses wholesome features and outstanding tasks. To make a rundown of such features, here is the list:
MacBook Air operates up to 2.5 times faster than before because of its Intel Core i5 and i7 processors. Speaking of speed quality, Thunderbolt Technology carries lightning-fast data transfer and more expansion capabilities. This is accompanied by the reliable Flash Storage to help the booting process and launching of applications quicker.
It features a full-sized backlit keyboard which makes the typing superbly comfortable and well-managed even under the dimmest light. A built-in vibrant light-sensor senses any form of changes in lighting conditions and automatically adjusts the display and keyboard brightness.
This device also provides a Multi-Touch Trackpad enabling the user to work easily, directly and with so much fun. It goes hand-in-hand with OS X Lion making it realistic to touch what the user actually sees. Such gestures include: simple click, double-click, tap to zoom, two-finger scroll, swipe to navigate, view mission control and pinch-to-open controls.
The high resolution display with millions of pixels measuring 4.86 millimeters thin, MacBook Air makes the user feel like he or she is looking on a wider screen. It also displays in it the FaceTime Camera for making video calls in connection with other Mac, iPad 2, iPhone 4 and even the latest iPod Touch. Not only that, MacBook Air dispenses full stereo sound with left and right speakers projecting a desirable sound on the keyboard to allow the user to enjoy a richer audio experience while chatting online, watching T.V. shows, or playing games.
Due to the space-saving flash storage, MacBook is given a room for a highly-capacitated and long-lasting battery.
The connectivity borderline features a MacBook Air with 802.11n Wi-Fi and Bluetooth 4.0 technology allowing the user to browse the web, send email, and print documents anywhere and anytime.
The MacBook Air, as it name implies, is unbelievably light and seemingly "weightless". So the user can bring the computer in everywhere he or she wants with an uninterrupted network and with convenience.
MacBook Air is designed with a highly recyclable aluminum covering to reduce such environmental impacts (BFR-free & PVC-free).
Apple manufacturers of MacBook Air deliver two model devices namely the 11-inch MacBook Air and the 13-inch one. The two models feature the latest rapid-driven Intel processors (Core i5 and i7) having the speed of 1.8 GHz. There comes also the Intel HD Graphics 3000 processor which entails an on-chip engine for video encoding and decoding.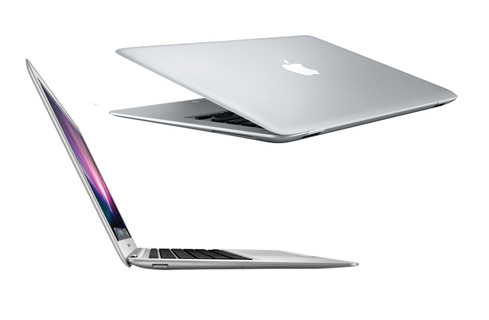 To make a comparison between the two, here's a detailed view of their technical specifications:
A.)      11-inch MacBook Air ($999/$1199)
The 11-inch MacBook Air has an 11.6-inch high resolution LED backlit glossy and anti-glare widescreen display supporting millions of colors. It measures 0.11-0.68 inch in height, 11.8 inches in width, 7.56 inches in depth and 2.38 pounds in weight. It stores 64 GB to 128 GB flash storage and configurable to 256 GB. It is processed with a 1.6 GHz dual-core Intel Core i5 and i7 with 3 MB-4 MB shared L3 cache. The capacity ranges from 2 GB to 4 GB of 1333MHz DDR3 onboard memory. The battery lasts up to 5 hours on a wireless web and up to 30 days standby time with a 35 watt-hour, 45W MagSafe Power Adapter with cable management system.
B.)      13-inch MacBook Air ($1299/$1599)
The 13-inch MacBook Air contains a 13.3-inch high resolution LED backlit glossy and anti-glare widescreen display with support for various color combinations. It measures the same height as the 11-inch one, 12.8 inches wide, 8.94 inches deep and weighing 2.96 pounds. It can store from 128 GB up to 256 GB flash storage. It is then operated by a 1.7 GHz dual-core Intel Core i5 and i7 with 3MB-4MB shared L3 cache. The DDR3 onboard memory has a capacity of 4 GB of 1333 MHz. The battery powers up to seven hours of wireless web and up to 30 days standby time with a 50 watt-hour, 45W MagSafe Power Adapter also with cable management system. Both models have an included software program by OS X Lion like Mail, Address Book, iCal, Mac App Store, iTunes, Safari, Time Machine, FaceTime, Photo Booth, Mission Control, Launchpad, AirDrop, Resume, Auto Save, Quick Look, Spotlight, QuickTime,etc. OS X Lion includes a built-in set of tools for repairing the Mac in the Recovery HD—a feature that repairs disks or reinstalls OS X Lion even without disc. Such supplementary accessories held by both models include: Apple USB Ethernet Adapter, AirPort Extreme Base Station, Time Capsule, Apple Wireless Keyboard, Apple Magic Mouse, Apple MacBook Air SuperDrive and AppleCare Protection plan. "To create an incredibly thin and light notebook computer that is as powerful and as functional as one with twice its size"—this is the main goal of Apple in manufacturing the MacBook Air. With flash storage, hard-wearing unibody construction, Multi-Touch technology, and a long-lasting battery, MacBook Air does not only succeed in doing so, for it sets a new level of standard for what every notebook should be, an idealized device with perfect precision and accuracy.