The 13-inch MacBook Pro
The 13-inch Macbook Pro has 13.3 inch LED-backlit 120x800 pixels. The dimensions for the 13-inch model are the following: 0.95" (height) x 12.78"(width) x 8.94" (depth). It weights approximately 2.04 kg. This
model
can be purchased with a memory of 4GB and with either 2.3 GHz dual-core Intel Core i5 and 2.7GHz dual-core Intel Core i7 processor ; and with either 320GB or 500GB hard drive. It has a lithium-polymer 63.5 watt-hour battey with approximately seven (7) hours battery life during wireless web browsing. The price for the 13-inch MacBook Pro in Mac Stores is at $1199 and $1499.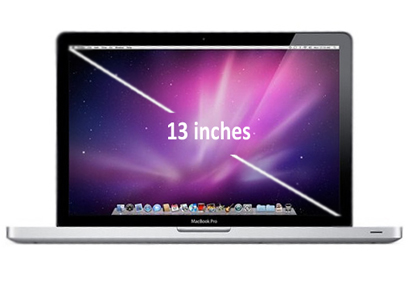 The 15-inch MacBook Pro
The 15-inch model has 0.95" (height) x 14.35" (width) x 9.82" (depth) size and a weight of 2.54 kg. The display of the macbook pro is glossy with 15.4" LED-backlit offering 1440x900 pixels. Users have an option to add antiglare widescreen display. It uses a multi-touch trackpad and the keyboard is full-size backlit. The 15-inch display macbook pro can be purchased with either 2.0 GHz or 2.2 GHz quad-core Intel core i7 processor depending on the model. A 2.3GHz option can also be availed. In terms of storage/memory, the 15-inch can have 4GB Memory with 500GB or 750GB hard drive or 128GB, 256GB or 512GB solid-state drive. It has a Superdrive which supports DVD±R (8x maximum write) DVD±R DL (4x maximum write; double layer)/DVD±RW/CD-R(24x maximum write)/CD-RW(10x maximum write).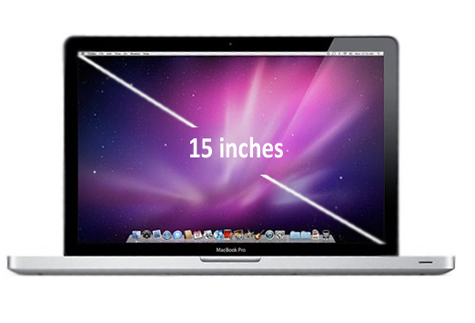 The battery can last up to seven (7) hours of wireless web. The battery is a 77.5 watt-hour lithium-polymer battery. The current price for the 15-inch MacBook Pro is $1799 and $2199 in Mac Stores.
The 17-inch MacBook Pro
This model has a dimension of 0.98" (height) x 15.47" (width) x 10.51" (depth) and a weight of 2.99 kg. It has a 17-inch LED backlit supporting 1920 x 1200 pixels. Option for an antiglare is available. The 17-inch MacBook Pro is installed with 2.2 GHz quad-core Intel Core i7 processor (same as the high-end 15-inch model) and boasts 750GB hard drive with 4GB memory. Buyers have an option for a 2.3 GHz processor. The battery is lithium-polymer 95 watt-hour. The battery life can last up to 7 hours of web browsing. Aside from the similar features for connection as listed below, this model has an ExpressCard/34 slot instead of a SDXC card slot. The 17-inch model can be purchased at a price tag of $2499. Unlike the 13 and 15-inch MacBook Pro, this has no counterpart model.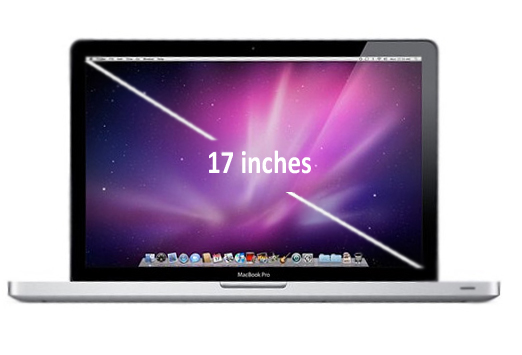 Similar features of all models
The following are some similar features for 13, 15 and 17-inch models: Connection to the notebook is through the following ports: Thunderbolt port, MagSafe power port, FireWire 800 port, USB 2.0 ports(2 ports for 13 and 15-inch; 3 ports for 17-inch), and Gigabit Ethernet port. It also has audio line (input and output except for the 13-inch model), Kensington lock slot and SDXC card slot. Although SDXC card slot is not available for the 17-inch model, it has an alternative ExpressCard/34 slot. Communication is through Bluetooth 2.1and wi-fi. The
new MacBook Pro
notebooks are designed with mercury-free LED backlit display and arsenic-free display glass. They are composed of recyclable aluminum and glass enclosure and is BFR and PVC free. These are environmental considerations to reduce harmful impact to the environment. In terms of Audio, the devices have omnidirectional microphone and a stereo (with subwoofers). The devices support headset from
Apple iPhone
. The notebooks also have a FaceTime HD camera for video and other related multi-media features. All models are made up of precision aluminum unibody. They have multi-touch trackpad for precision control on cursor, a full-size backlit keyboard, 8x Superdrive and a battery with an approximate 7 hours of life.