Asus Zenbook UX21 and ASUS Zenbook UX31 Unveiled
The introduction of Intel's ultrabook is maybe the answer for the long reign of Macbook air in terms of slim notebooks.  Ultrabooks were announced on this year's 2011 IFA trade show which promise to be ultraportable and .   Asus announced its first line up of ultrabook during the Computex in May 2011.  People saw a glimpse of the aluminum built ultrabook that may outstrip the Macbook air from its crown.
Meet the Asus Zenbook UX21
• Outside Asus UX21 The Asus Zenbook UX21 has a unibody made of aluminum polished even better than the Macbook air.   It looks stunning as its polished well framed body catches the eyes of spectators.  It is interesting though that the Asus UX21 does not have grills below it as compared to other laptops for ventilation purpose.
This device starts thick at 7mm (0.67 inch) at the rear and continuing up to 3mm(0.11 inch) in front.  It only weighs around 2.4 lbs.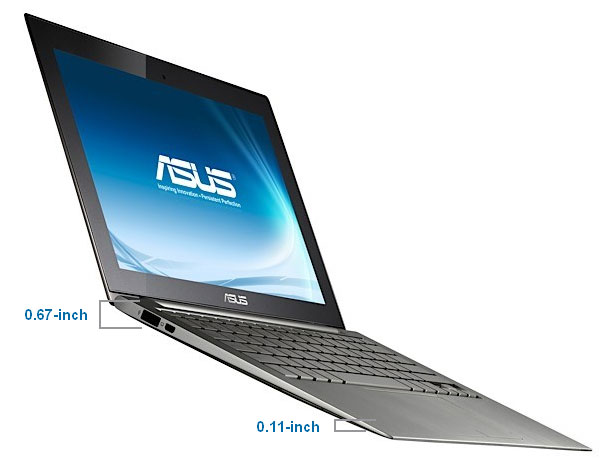 The keyboard's layout is first-rate but nothing really spectacular.  The keys have shallow action.  The touchpad is made of glass and seems a little bit inaccurate.
It also has a webcam installed on top of the screen, set at 0.3 MP.
• Display The Asus Zenbook UX21 offers a resolution of 1366x768 pixels, very competitive with that of Macbook Air.  Although upon actual use, this ultrabook seems slightly muted compared to its competitor.   It possesses a reflective finish.  The screen size is set at 11.6 inches.
• Access and Connectivity This ultrabook is equipped with a micro-HDMI port, miniVGA output, one USB v2.0 and one USB v3.0 port and a headphone jack.  It doesn't have a memory card reader.  It also isn't equipped with a ThunderBolt™ port.  It is Wi-Fi and Bluetooth v4.0 capable.
• Variants The Asus Zenbook UX21 is packed with either 1.7GHz Intel Core i5-2557M processor or Core i7-2677M.  It is equipped with 128GB SSD AND 4GB of RAM.
Meet the Asus Zenbook UX31
The Asus Zenbook UX31 has the same specifications and inclusion as UX21 as stated above except for the following: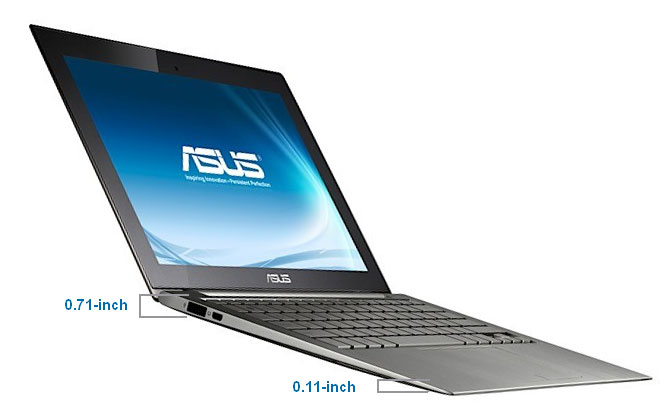 • Screen, Body, Dimensions
The screen size for the Asus Zenbook UX31 is set at 13.3 inches.  It has a resolution of 1600x900 pixels (higher than MacBook air's 1440x900).  The product will weigh around 2.9 lbs.  It is also fitted with a aluminum unibody which tapers its thickness down from 0.71 inch from rear to 0.11 inch in the front.
• Variants This ultrabook comes in three variants: 1.)    Intel Core i5-2557 processor with 128GB SSD 2.)    Intel Core i5-2557 processor with 256GB SSD 3.)    Intel Core i7-2677M processor
Prices
Price for the UX21 starts at US$999 and the Zenbook UX31 price starts at US$1,099.
• Release date, Availability
Consumers can order this ultrabook starting October 11/12.