When one hears transformer, you can immediately think of the cartoon (old school) or the Steven Spielberg's movie, The Transformers.  In the world of electronic gadgets, Asus holds the name Transformers in their line-up of devices specifically the tablet.  The reason for its name would probably its capability to transform into a desktop PC using a dock together with a portable keyboard.   The previous Asus Eee Pad Transformer also has the same capability to be converted into a desktop. After launching the
Asus Zenbook UX21 and UX31
with 5 variants, Asus has recently unveiled a new gadget called Asus Transformer Prime.  CEO Jonney Shih  of Asus grabbed the opportunity to provide a sneak peak of this new gadget in Hong Kong during the AsiaD conference.
What's with the new Transformer Prime?
The Transformer Prime may probably be associated with the mighty Optimus Prime of the Transformers as the new device is set to incorporate NVIDIA's Tegra 3 processor which is quad-core.  If ever, this will be the first tablet to showcase a quad-core processor.  Users may expect a very speedy processing time on different applications and most probably rebooting time. The gadget's thickness is set at 8.3 mm or 0.33 inch.  Technically speaking, the Asus Transformer Prime is thinner compared to the ipad 2's thickness of 8.6 mm or 0.34 inch.  The device will have a screen size of 10 inches.  It will support HDMI through its mini HDMI port.  External memory can be accessed through a card slot for SD cards.  This is probably one of the plus points of this device since its major competitor, the iPad series does not allow expansion on external memory.  As said awhile ago, this device can be transformed into a desktop together with a dock and a QWERTY keyboard.  The battery life is expected to last for 14.5 hours.  If this is true, it is 2.5 hours longer than the tests done on the iPad 2.
The first Android 4.0 Ice Cream Sandwich tablet?
If Galaxy Nexus Prime is set to bee the first Ice Cream Sandwich Android smartphone, will the Asus Transformer Prime be the first tablet to run on this newest android version?  Although not officially confirmed by Shih during the sneak peak of the Transformer Prime, it is somehow evident that this gadget may run on an Android 4.0.  The inclusion of "Prime" in both the Galaxy Nexus and Transformer may provide as a clue that the latter may also showcase the newest version of Android OS just like the former.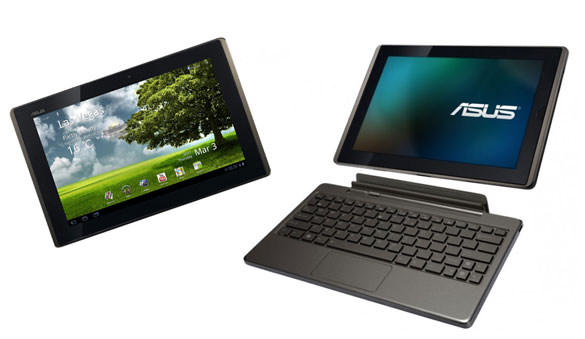 Release date and Price
The company plans to unveil the Asus Transformer Prime officially to the public on November 09.  No official date yet on its release for purchase.  On this date shall we see if the newest tablet offered by Asus will come with a Honeycomb or Ice Cream Sandwich.  Since there is limited information given during the sneak peak, other details such as the price of the new tablet is yet to be announced.