Which is better: iPhone 3G or 3GS? Although iPhone 3G and iPhone 3GS looks similar, they have a lot of difference. Since the
model
has the same structure such as dimension (115.5 x 62.1 x 12.3 mm), one can hardly tell them apart. This article compares the features and specifications of the two models.
The iPhone 3G Model
The iPhone 3G was announced June 2008 and was released on July of the same year. It weighs approximately 133 grams. The 3.5 inch scratch resistant touchscreen
display
supports 16M colors. Screen size is set at 320x480 pixels. This iPhone model runs on an iPhone OS but can be upgraded to iOS 4.
Processor installed
is ARM 11 412 MHz. It offers an internal memory of 8GB or 16GB of storage depending on the type, with 128 MB RAM. Sadly, the iPhone does not have a card slot for external memory. Only one 2 MP fixed focus primary camera (1600x1200) is installed at the back with no video capability. Connectivity is through Wi-Fi, 3G (3.6 Mbps HDPA), Bluetooth v2.0 (only for headset) and USB v2.0. Users can check out the web through HTML Safari. Messaging can be through SMS, MMS and E-mail. The iPhone 3G is also GPS-ready. Battery life is around 10 hours for talk time while 300 hours for stand-by time. Available colors are Black and White. The black models support either 8GB or 16GB while the white model only supports 16GB.
The iPhone 3GS Model
The iPhone 3GS was released June 2009. It has a scratch resistant capacitive touchscreen display with 16M colors. Aside from being scratch resistant, it has water and oil resistant finish. Its screen size is set at 3.5 inches supporting 320x480 pixels. It weighs 135 grams, 2g heavier than the iPhone 3G. The iPhone 3GS can be purchased in 3 different types of memory: 8GB, 16GB and 32GB. All runs with 256MB RAM. The phone does not have a card slot. Connectivity is through Wi-Fi, 3G (7.2 Mbps HSDPA), Bluetooth v2.1 (headset support) and USB v2.0. Users can message their friends through SMS, MMS and Email. The browser is HTML Safari. The camera is set at 3.15 MP. It is located at the back and features auto-focus. This model supports video recording with 30fps VGA. A pre-installed application can be used to edit videos. The iPhone 3GS runs on an iPhone OS 3 which can be upgraded to iOS 4. It also runs on a 600 MHz ARM Cortex A8 processor. Available colors are black and white. Battery life is approximately 300 hours for stand-by time and 12 hours (2G)/ 5 hours (3G) for talk-time.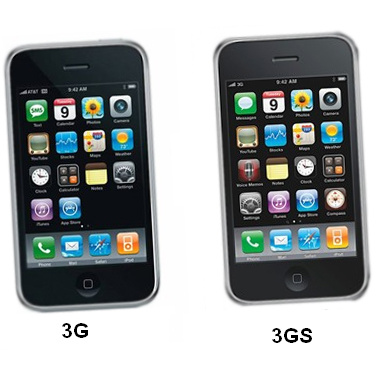 Specs Comparison of iPhone 3G and 3GS
| | | |
| --- | --- | --- |
| | iPhone 3G | iPhone 3GS |
| OS | iOS 2.0 | iOS 3.0 |
| CPU | 412 MHz processor | 600 MHz ARM Cortex-A8 |
| RAM | 128 MB RAM | 256 MB RAM |
| Storage Capacity | 8, or 16 GB | 8, 16, or 32 GB |
| Display | 3.5-inch capacitive touch screen(320) x (480) pixels | 3.5-inch capacitive touch screen(320) x (480) pixels |
| Data Connectivity | WiFi b/g3GBluetooth USB 2.0 | WiFi b/g3GBluetoothUSB 2.0 |
| Cameras | 2.0 MegapixelNo secondary camera | 3.15 MegapixelNo secondary camera |