Display and Size
Both iphone 4 and iphone 4S have the same dimensions of 115.2 x 58.6 x 9.3 mm.  They differ in terms of weight as the new iphone 4S is heavier at 140g while the iphone 4 is lighter at 137g.  Meanwhile, there is no difference on the display and
screen of these iphone models
.  The screen is 3.5" 16 M colored LED-backlit capacitive touchscreen.  It is scratch resistant (as usual) with the same sets of sensors and multi-touch input method installed.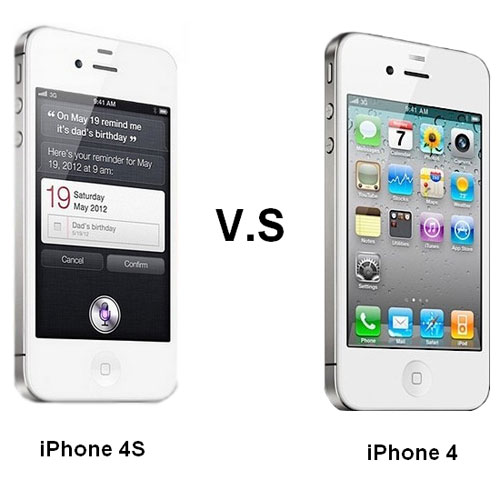 Storage
The iphone 4S boasts new models which support 64GB storage capability.  Both iphone 4 and iphone 4S retain models with 16 and 32 GB memory.  Storage cannot be expanded as there are no available card slot in iphone 4 and iphone 4S.  Phonebook entries are practically unlimited. When it comes to the 
iPhone RAM size
, the iPhone 4 has 512MB while the iPhone 4S RAM is not indicated.
Connectivity
The iphone 4 and 4S support 3G network.  Iphone 4S has additional capability on data transfer using EDGE and GPRS.  Bluetooth upgrade is evident in iphone 4S which already have v4.0 compared to v2.1 on iphone 4.  USB connectivity is present in both phones while infrared capability is still absent.  Both versions can access the world-wide-web using Wi-fi. The new iphone 4S's new feature from its former versions is its CDMA and GSM capability.  People can now connect anywhere around the world without worrying network availability and capability.  Previous versions of the iphone have specific 2G network branding which restricts access to networks in some areas or continents.
Multimedia
The iphone 4S is now refurnished with a new 8 megapixel rear camera with 3264x2448 pixels.  It has autofocus with LED flash.  It is also equipped with additional lens which makes the image clearer.  Video is at 1080p.  The iphone 4 has a 5 megapixel camera with 2592 x 1944 pixels.  It also has autofocus and LED flash.  Both phones come with VGA camera located in front.  Video is set at 720p.
Inside the iphone
The new iphone 4S comes with iOS 5 as its new OS compared to iOS4.2.5 for iphone 4.   When it comes to the
iPhone processor specs
, the iPhone 4S becomes much faster as it is equipped with a 1GHz dual core processor powered by an Apple A5 chipset compared to 1GHz processor A4 chipset on iphone 4.
Messaging and Internet
Both iphone versions have messaging capability through SMS, Email, iMessage(for apple products), MMS and Push Email aside from the call feature and videocalling (internet).  Browser for both phones is through Safari (HTML).  The iphone 4S is also equipped with iCloud which lets users access data (such as apps and music) through the internet on similar apple devices.
US Carriers
The iphone 4 and iphone 4S is available at AT&T and Verizon.  iPhone for Sprint was recently announced, making Sprint to join the 2 networks in selling the iphone 4S starting October 14.
Color availability and Price
Both versions come in white and black.  Prices in the US depend on the network carrier and data plan.  It starts at $199 for the 16GB model, $299 for the 32GB and $399 for the 64GB a lock-in period of 2 years.
Exclusive feature
The iphone 4S prides itself with the new application called Siri.  Users can now do voice command prompts on the iphone for services such as send message to specified recipient, make or change scheduled appointments, make Siri read your message, make a reminder, money conversion, search the internet and many more.  It can also answer your queries such as the weather for today.
Release date
The iphone 4 was announced January 2011 and was released immediately February 2011.  The new iphone 4S was announced and released on October 2011 (October 5 to be exact).