Linux is a robust server OS and proven reliable OS for desktops and other devices. With the increasing popularity of tablet PCs, Linux is also seen as one of the contenders when it comes to tablet Operating Systems. The Android OS, developed by Google, is based on the Linux kernel, is one of the market leaders these days. The recent Android version, the
Honeycomb
Ice Cream Sandwich, is specialized for large screen devices, like tablets. For users who prefer the native Linux environment on their tablets, there are Linux editions that can address the needs of a tablet. The
Ubuntu
Netbook Edition, for example, is a version of the original Ubuntu that is specialized for small devices like tablets. The latest version, Ubuntu Netbook Edition 10.10, uses the Unity desktop as its interface. This new desktop interface is designed to efficiently use the relatively small space of limited screen size devices.
Here is a list of tablet PC running on Linux.
Tenq P07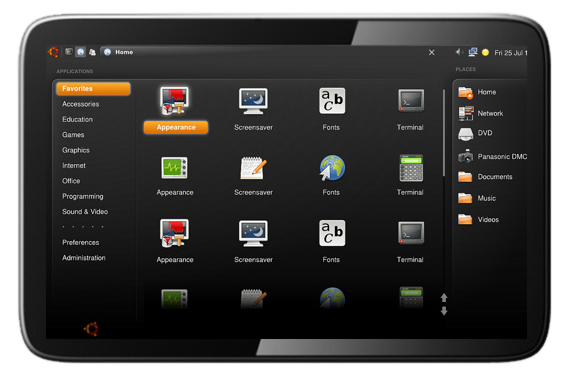 The Tenq P07 tablet runs on Ubuntu Netbook Edition 10.10. This tablet has 1.6GHz processor, 2GB RAM and 32GB storage space. It has a 10.1-inch multi touch screen. This device boasts other features like webcam, HDMI out, Micro SD card slot, 2 USB ports, Bluetooth and Wifi. There is also an optional 3G edition of this tablet. The Tenq P07 is manufactured by a Taiwanese company and is scheduled for release early this year.
The WePad
Update: Wepad has now the official name of WeTab
The
WePad
WeTab is a large-screen Linux tablet from Germany. Dubbed as an ipad alternative, it aims to address
iPad's shortcomings
. This 11.6-inch tablet is powered by an Intel chip It also promaotes openness as it allows more controls for the developers. It has 2 USB ports and supports all kinds of devices connected through the ports. It is compatible with Google Android and Flash contents. The basic model comes with WiFi and 16GB storage capacity, the larger version has 3G connectivity and 32 GB storage.
RealEase Shogo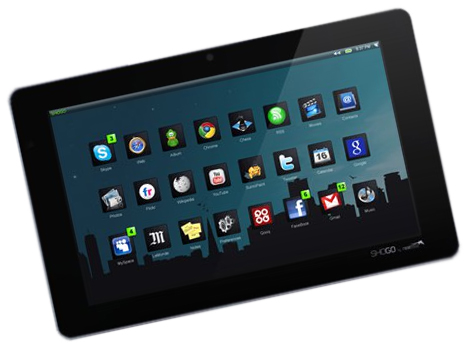 The Shogo is a 10-inch Linux tablet originally designed for developers and Original Equipment Manufacturers (OEMs). Developers can freely derive the tablet they prefer (if possible) making it an open tablet. Its built in USB ports add more 'openness' to this device. A Japanese reseller, Redstar, started creating their customized version for retail.  The tablet has 533MHz system and 256 MB RAM and 4GB memory. The company is planning to launch a higher-end version with 1GHZ processor and 64GB storage. The Shogo tablet has 1024 x 600 capacitive display. It has WiFi for connectivity, bluetooth and 3G (optional). Interestingly, the Shogo Linux has great web technology support including HTML 5 and the latest Flash 10.
Comparison
| | | | |
| --- | --- | --- | --- |
| | Tenq P07 | WePad WeTab | Shogo |
| OS | Ubuntu Netbook Edition 10.10 | Linux or Android | Shogo Linux |
| Processor | 1.6 GHz | 1.66GHz | 533MHz / 1GHz |
| Storage | 32 GB | 16GB or 32GB | 4GB / 64GB |
| Screen | 10.1" | 11.6" | 10" |
| Connectivity | WiFi,Bluetooth,USB ports 3G (optional) | WiFi,Bluetooth,USB ports 3G (optional) | WiFi,Bluetooth,USB ports 3G (optional) |
| Cameras | N/A | 1.3 Megapixel | 2.0 Megapixel |
UPDATE:
Added new Linux Tablets in the list: The Ekoore Perl, Python, Drake
The Ekoore Perl
Ekoore announced its two new latest tablet offer under Ubuntu 11.04. This linux-powered device has a resolution of 1366x768 pixels on its 11.6 inch capacitive multi-touch screen. It operates under a Intel Atom N450 1.66 Ghz processor. It has a 32GB SSD and upto 2GB of RAM. Users have the option to upgrade to a 64GB SSD. It is described as ultra-thin with 14mm of thickness. It has a length of 295mm and a height of 195mm. The device weighs around 1 kg with a battery. The device has an HDMI port which allows connectivity to new generation of televisions. Connection to the internet is through Wi-Fi or through network connectivity using a SIM. It is also equipped with Bluetooth and 3 USB ports for exchange of files. A camera is available with a resolution of 1.3 MP. It is only available in black color. The Ekoore Perl can either run on either Ubuntu Linux or Windows 7 OS according to user specification. Price is set at 559€.
The Ekoore Python
The Ekoore Python runs on an Ubunto OS (Linux) 11.04 version although same as the Ekoore Perl, it is also compatible with Windows 7. The screen is set at 10.2 inches, more than an inch less compared to the Perl. It is also multi-touch capacitive touchscreen with 1024x600 LED display. It runs on an Intel Atom N455 1.66 GHz processor. Ram is at 1GB with an option to upgrade to 2GB. Hard drive is set at 32GB and like the Perl, it can also be upgraded to 64GB. A webcam is also available set at 1.3 megapixel. Users can connect to the internet through Wi-fi or through network through a SIM card. A Bluetooth v2.1 is available for sharing of files with another device. It also has 3 USB ports. Colors available are Silver or Nero. This gadget weighs approximately 0.9 kg with the battery. Price is set at 539€.
The Ekoore Drake
The cheapest among the three Ekoore Tablet PC is the Ekoore Drake. The Ekoore Drake can e bought for 439€. It also runs on an Ubuntu Linux processor version 11.04. It is also compatible with Windows 7 like the two tablet PCs (Python and Perl). The screen size is set at 10.2 inches. It's display is LED Display touch screen with a resolution of 1024x600 pixels. It has the same Intel Atom processor like that of Perl and Python at 1.66 GHz. RAM is at 1GB with an option to upgrade to 2GB and a hard drive of 160GB (option to make it at 320GB). A webcam is present set at 1.3 megapixel. Unlike the other Ekoore running Linux tablets, this device is not equipped with Bluetooth although it has 3 USB ports. Connection through the internet is through Wi-fi and Ethernet.