With all of these spectacular features and attributes of MacBook Pro, you definitely can't say no. In complete control over how the MacBook Pro is designed, how it's manufactured, and how it's packaged provides Apple an environmental edge. LED backlight technology preserves energy consumption and maintains full-utilization of energy. Glass and aluminum are very much recyclable. MacBook Pro is boundless of most harmful toxins. MacBook Pro really is a must-have product when we're talking of quality and performance inside and out.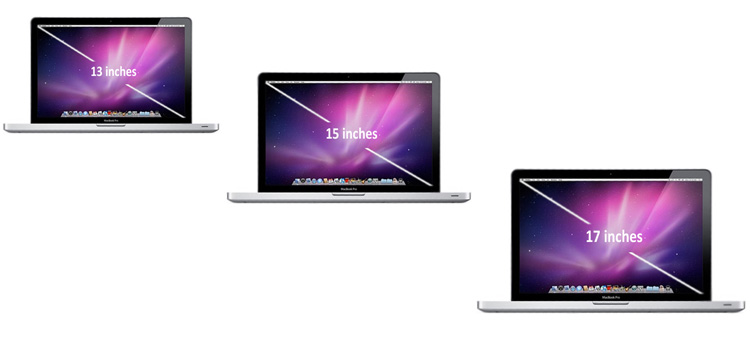 Here is a comparison of the current Macbook Pro Models
The 13-inch MacBook Pro (The high performance notebook)
The 13-inch MacBook Pro features a 2.3 GHz Intel Core i5 processor and the 2.7 GHz Intel Core i7 dual core processor. These processors allow the MacBook to function at its best twice as fast as the previous Apple devices. It is measured 0.95 inch in height, 12.78 inches in width, and 8.94 inches in depth weighing 4.5 pounds. The available connectors include MagSafe power port, Gigabit Ethernet port, FireWire 800 port, two USB 2.0 ports, Thunderbolt port, Audioin/out port, SDXC card slot and Kensington lock slot. In terms of communications, Wi-Fi wireless networking is available, Bluetooth 2.1 +EDR wireless technology is included and 10/100/1000 BASE-T Gigabit Ethernet is connected. In audio mechanisms, there come the stereo speakers with subwoofers and omni-directional microphone accompanied by headphone. The LED back-lit display supports millions of colors. It stores 320 GB to 500 GB 5400-rpm on Serial ATA hard drive. The battery is made of a lithium-polymer lasting up to seven hours of wireless web with 63.5 watt-hours. Supplemented by different accessories, this encompasses Apple LED Cinema Display, AirPort Extreme Base Station, AirPort Express Base Station, Apple Wireless Keyboard, Magic Mouse, and Apple Keyboard with numeric Keypad.
The 15-inch MacBook Pro (The mobile computing powerhouse)
The 15-inch MacBook Pro shows a 2.0 GHz and 2.2 GHz quad-core Intel i7 processor with Turbo Boost material enabling this MacBook to run applications twice as fast as their predecessors. It's the same height as the 13-inch but a little bit thicker (14.35 inches). It is 9.82 inches in depth and weighs 5.6 pounds. It also shares the same connections, expansion, communication scope, and audio. It stores about 500 to 750 GB 5400-rpm on Serial ATA hard drive. The lithium-polymer battery also lasts up to seven hours wireless web with 77.5 watt-hours. The same set of accessories is also included but with a higher quality performance.
The 17-inch MacBook Pro (The ultimate mobile studio)
The 17-inch MacBook Pro also exhibits the same 2.2 GHz Intel Core i7 quad-core processor switching low class operators to new high performance AMD Radeon graphic processors with up to three times the performance of other models. This is 0.98 inch high, 15.47 inches wide, 10.51 inches deep and weighs 6.6 pounds. In terms of connections, expansion slots, audio, communication, accessory provisions and environmental support, this MacBook also grasp the same materials as of the other two. Among the three, this 17-inch computer holds the largest capacity of 750 GB storage 5400-rpm on Serial ATA hard drive. The battery powers up to 7 hours of wireless web with an amazing 95 watt-hour of work.