The Playbook is Blackberry's entry to the tablet PC competition. Compared to most tablets in the market, the 7-inch Playbook stands out to be one of the most portable tablet PCs. It is slim tablet and weighs light. Despite the small dimensions, the Playbook excels in hardware features. The Playbook's Price starts at $500.
Here's What The Blackberry Playbook offers:
FEATURES / HIGHLIGHTS
• Environment – the Playbook boasts its Blackberry Tablet OS, an operating system designed for this device.
•Web Experience – the Playbook promises smooth web experience, as it is equipped with modern web technology and browser, including the latest Flash version.
• Connectivity – Supports modern high-speed connectivity including 4G, 3G and WiFi
• Multimedia Experience – the Playbook brings a good multimedia experience with its HD display, HD video and stereo sound.
• Hardware Performance – powered by a dual core processor, the Playbook is equipped with great computing power to run applications seamlessly.
• Portability – with its 7-inch screen, thin body and relatively light mass, the Playbook is one of the most portable Tablets available.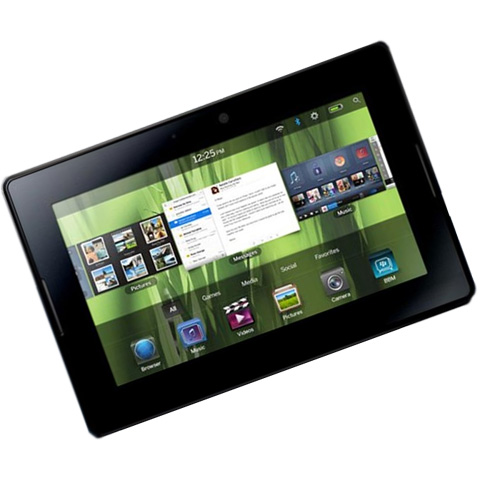 SPECIFICATIONS
Operating System
Blackberry Tablet OS by QNX
Processor
1 GHz dual-core processor
Memory
1GB RAM
Form
Slate
Dimensions
(5.1) x (7.6) x (0.4) inches
Weight
425 grams / 0.9 lbs
Display
7" Multi-Touch Screen1024 x 600 pixels resolution
Connectivity
WiFi 802.11 a/b/g/n4G

3G

Bluetooth

Micro USB

Cameras
3 MP front camera (webcam)5 MP high-resolution rear camera
COMPETITION
• Blackberry v.s iPad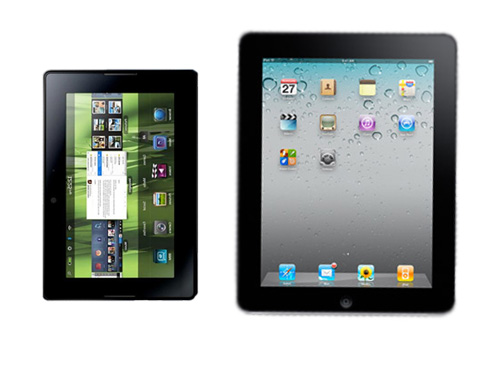 The tablet PC market is undeniably dominated by Apple's iPad. For sure Blackberry fans would consider the Playbook but how about the Apple fans, will they switch to the Playbook? Does this tablet from Blackberry have what it takes to gain iPad's share?
Here's a comparison of  features indispensable for a tablet PC.
Blackberry Playbook
Apple IPad
Form Factor
7-inch Display0.4 inch thin
9.7-inch Display0.5-inch thin
Applications Distribution
Blackberry App WorldOver 16k available apps
Apple App StoreOver 300k available apps
Computing
1 GHz Dual-Core Processor1GB RAM
1GHz Single-Core Processor256MB RAM
Input
Capacitive Multi-Touch Screen
Multi-Touch Screen, Proximity and Ambient Light Sensors, 3-axis Accelerometer
Network Connectivity
4GWiFi

3G

WiFi3G
Tethering
Officially supports tethering to Blackberry Smartphone
Doesn't support tethering to iPhone
USB
Mircro USB
None
Cameras
5M rear3M front (webcam)
None
• Other Competitors
Samsung Galaxy Tab – when it comes to size, the 7-inch Galaxy Tab is the best competitor of the Playbook. The Samsung Galaxy Tab runs on Android 2.2 Froyo.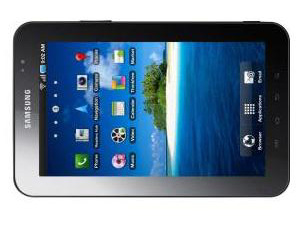 Motorola Xoom – this is another Android tablet but this one runs on the latest Android 3.0 Honeycomb. It competes to the Playbook when it comes to the processor, browser and web technologies and cameras.
HP Slate 500 – for those who prefer the Windows Environment, the Slate 500 from HP is a good choice.